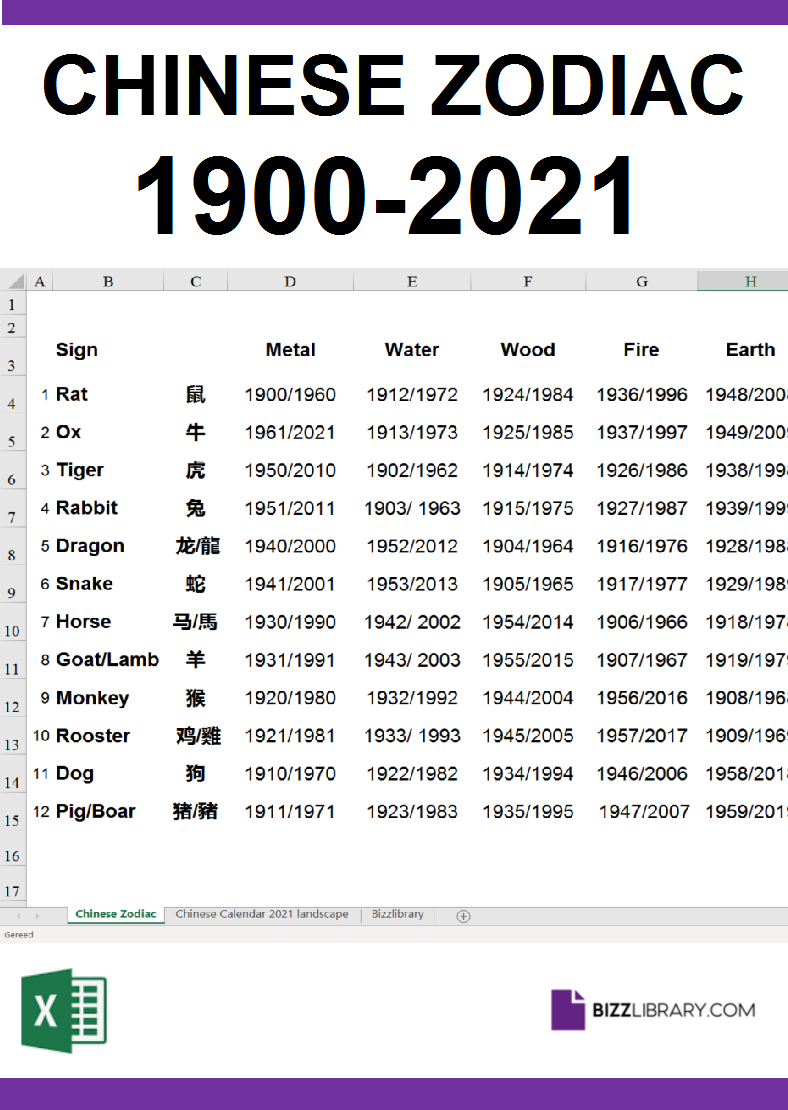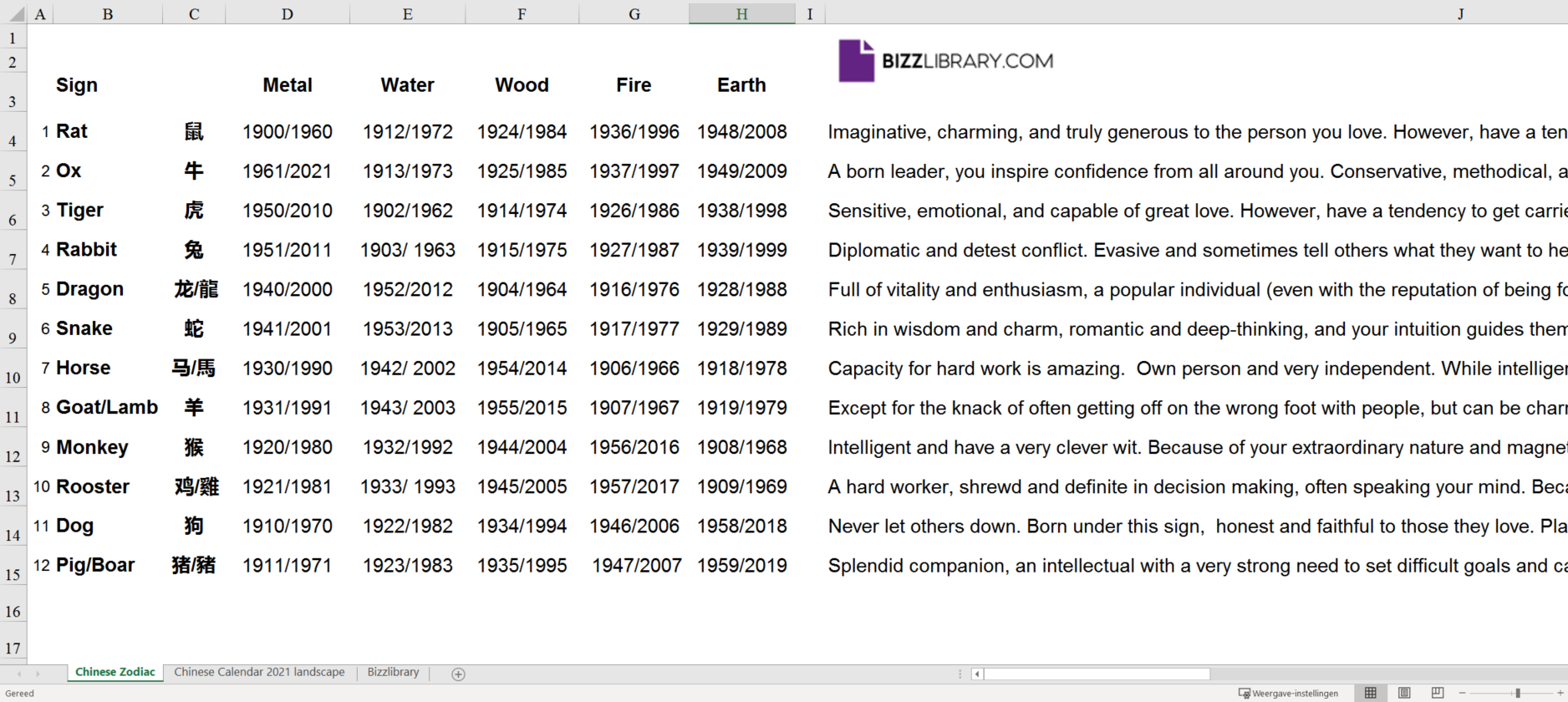 Chinese Zodiac Year
What is the Chinese calendar for 2021? What animal is celebrated in 2021 according to the Chinese zodiac? Download this Chinese Zodiac directly as Excel File
FORMAT:

CATEGORY:

LANGUAGE:
English
TYPE & SIZE:
.xlsx (0.03 MB)
Overview
If you do business with China, you will have to make sure to anticipate on Chinese new year. This is also commonly known as the "Spring Festival" in modern Mainland China. This is the most important traditional festival and is celebrated at the turn of the traditional lunisolar Chinese calendar, which consists of both Gregorian and lunar-solar calendar systems. 
What is the Chinese calendar for 2021?
In general, the Chinese New Year starts anytime between the end of January and mid-February. In the year 2021, the Chinese New Year is officially starting on Friday, February 12th, 2021, and ends on 31 January 2022. The festive season will last until February 26th which is about 15 days in total. As an official public holiday, Chinese people can get seven days' absence from work, from February 19th to March 7th, but most will celebrate longer.
What animal is celebrated in 2021 according to the Chinese zodiac? 
The Ox is the second animal symbol in the 12-year cycle of the Chinese zodiac. The years of the Ox include 1937, 1949, 1961, 1973, 1985, 1997, 2009, 2021, and so on. 
Personality traits of people born in the year of Ox: A born leader, you inspire confidence from all around you. Conservative, methodical, and good with your hands. Guard against being chauvinistic and always demanding your own way. Successful as a skilled surgeon, general, or hairdresser. People born in the year of the Ox hold conservative and traditionalistic personalities and are usually impress people with an image of endurance are stubborn, cautious but hesitant, moody, honesty, and diligence and seldom fear hardships or difficulties. They are persistent but stubborn, according to Chinese zodiac analysis. 
Core Strengths Metal/Gold Ox:

Hardworking;
busy;
active;
popular amongst family and friends.
The Most Important Dates of Chinese New Year

Chinese New Year's Eve: the day of family reunions;
Chinese calendar: 除夕 Chúxī /choo-sshee or 'getting-rid-of evening';
Chinese New Year's Day: the day of (close) family visits and New Year greetings;
Chinese calendar: 初一 Chūyī or choo-ee or 'first 1'
Which Chinese zodiac is the luckiest?
The Rabbit is considered to be the luckiest in China, according to the Chinese Zodiac. However, recent research has shown that it's not the Rabbit, but actually, the Rat was winning the most lotteries in the year 2020, according to data collected by Australia's official lottery provider. 
According to the Chinese Zodiac, which is a cycle of 12 different animals, the Chinese year beginning in 2021 is the year of the Ox (in Chinese: niú 牛).
So, considering each Chinese zodiac year begins on Chinese New Year's Day, all children that are born on or after February 12th, 2021 are Ox. 2021 Is the Year of the Ox according to the Chinese zodiac. The heavenly branch is 'Gold Ox'. 

Ox 牛 2021 A born leader, you inspire confidence from all around you. Conservative, methodical, and good with your hands. Guard against being chauvinistic and always demanding your own way. Successful as a skilled surgeon, general, or hairdresser. 
Tiger 虎 2022 Sensitive, emotional, and capable of great love. However, have a tendency to get carried away and be stubborn about what is right or wrong; you're often seen as a "hothead" or rebel. Tiger's Sign shows you would be excellent as a boss, explorer, race car driver, or matador.
Rabbit 兔 2023 Diplomatic and detest conflict. Evasive and sometimes tell others what they want to hear instead of what really thinking. If others need advice, Rabbit's will offer them, good counsel. Stay clear of the limelight, but always enjoy the good things in life.
Dragon 龙/龍 2024 Full of vitality and enthusiasm, a popular individual (even with the reputation of being foolhardy and a "bigmouth" at times.) Intelligent, gifted, and a perfectionist, but these qualities make you unduly demanding on others. You would be well-suited to be an artist, priest, or politician.
Snake 蛇 2025 Rich in wisdom and charm, romantic and deep-thinking, and your intuition guides them strongly. Avoid procrastination, with a stingy attitude towards money. Keeps a sense of humor about life. Most content as a teacher, philosopher, writer, psychiatrist, or fortune teller.
Horse 马/馬 2026 Capacity for hard work is amazing.  Own person and very independent. While intelligent and friendly guards against being egotistical. The sign suggests success as an adventurer, scientist, poet, or politician.
Goat/Lamb 羊 2027 Except for the knack of often getting off on the wrong foot with people but can be charming company.  Elegant and artistic, but the first to complain about things. Put aside your pessimism and worry and try to be less dependent on material comforts. Would be best as an actor, gardener, or Beachcomber
Monkey 猴 2028 Intelligent and have a very clever wit. Because of your extraordinary nature and magnetic personality,  always well-liked. You, however, must guard against being an opportunist and distrustful of other people. Your sign promises success in any field they try.
Rooster 鸡/雞 2029 A hard worker, shrewd and definite in decision making, often speaking your mind. Because of this, Roosters tend to seem boastful to others.  A dreamer, a flashy dresser, and extravagant to an extreme. Born under this sign, you should be happy as a restaurant owner, publicist, soldier, or world traveler.
Dog 狗 2030 Never let others down. Born under this sign,  honest and faithful to those they love. Plagued by constant worry, a sharp tongue, and a tendency to be a fault finder. They would make an excellent businessman, activist, teacher, or secret agent.
Pig/Boar 猪/豬 2031 Splendid companion, an intellectual with a very strong need to set difficult goals and carry them out. Sincere, tolerant, and honest, but by expecting the same from others,  incredibly naive. A quest for material goods could be their downfall. Would be best in the arts as an entertainer, or possibly a lawyer
Rat 鼠 2032 Imaginative, charming, and truly generous to the person you love. However, have a tendency to be quick-tempered and overly critical. Inclined to be somewhat of an opportunist. Born under this sign, you should be happy in sales or as a writer, critic, or publicist.

Check out this Chinese Zodiac and find out all you need to know about this years' Chinese New Year! This printable calendar is macro-free and is easy to use.

Is the content above helpfull?
Thanks for letting us know!
The content is for informational purposes only, you should not construe any such information or other material as legal, tax, investment, financial, or other advice. Nothing contained this site constitutes a solicitation, recommendation, endorsement, or offer by Bizzlibrary or any third party service provider to buy or sell any securities or other financial instruments in this or in any other jurisdiction in which such solicitation or offer would be unlawful under the securities laws of such jurisdiction.
---
Reviews
Zhiyan Deng(1/6/2021)
Lucky to find this zodiac, i can explain it to my friends
Carolin Andersen(1/6/2021) - AUS
Thanx for the file
Apryl Gardner(1/6/2021) - NZL
Highly recommended
Kandis Frost(1/6/2021) - AUS
Inspiring document, Excellent quality..
---
Last modified
Our Latest Blog
Related Templates
Need help?
We are standing by to assist you. Please keep in mind we are not licensed attorneys and cannot address any legal related questions.